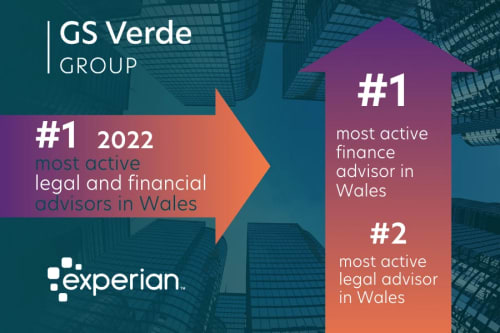 posted
18th
August
2023
Posted

2 months ago
By

GS Verde Group
The GS Verde Group has been ranked as Wales' most active corporate finance advisor and second most active corporate legal advisor in Experian's Market IQ report H1 2023. The only firm to feature across both categories.

Fresh off the heels of recognition as the number 1 leading M&A advisor in Wales by the report in 2022 - again uniquely ranked as both legal and financial advisor - GS Verde is thrilled to be on track to achieve this top annual position for the third year in a row.

The continued success of the Group in the Market IQ report demonstrates our commitment to serving businesses across the country and delivering successful outcomes while navigating both legal and financial landscapes in M&A.

Nigel Greenaway, CEO of GS Verde, said, "This ranking from Experian reaffirms our team's dedication to providing comprehensive financial and legal advisory services (and beyond) that empower our clients to make informed decisions and achieve their goals. Our multidiscipline offering is unique, and we are finding that the end-to-end support provided by our experienced team elevates our deal activity, something which we are certain to build on as we move into the second half of 2023."

The success of GS Verde can be attributed to its multidiscipline team of seasoned professionals who possess a wealth of experience across various sectors, ensuring clients receive tailored solutions that address their unique challenges. The firm's collaborative approach and customer-centric ethos have played a pivotal role in fostering long-lasting client relationships that will continue into 2023 and 2024.

GS Verde are the business-focused experts in getting deals done
Law - Finance - Tax - Communications

Augmenting Reality : Increasing Success
Multiple Disciplines : One Team

Experian is a globally renowned credit and information services company which regularly releases its Market IQ report that tracks the activity of advisory firms across the UK. The report acts as a beacon of recognition for corporate legal and corporate finance companies that consistently deliver successful outcomes against their clients' M&A needs.