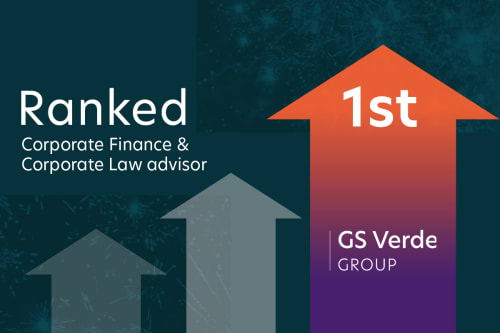 posted
21st
February
2023
Posted

7 months ago
By

GS Verde Group
The GS Verde Group have been named the most active M&A advisors of 2022 by Experian, a ground-breaking achievement as the only firm to top both the Corporate Law and Corporate Finance rankings.

GS Verde has continually made history in the externally-recognised Experian Market IQ reports and now has further validation of its unique multidiscipline dealmaking approach by earning top annual positions for the second year running.

The Group's success reflects the way in which combining law, finance, tax and communications as one team under one roof augments reality for the benefit of clients.

Nigel Greenaway, GS Verde Group CEO, said: "We are delighted to see GS Verde Group ranked as the most active dealmaking team in Wales by Experian. It is a fair reflection of the activity levels we saw in 2022, and to top the rankings as 'most active' in both Legal and Finance advisor sections (bearing in mind GS Verde Group is also the only advisory business to be ranked in both categories) is a very noteworthy achievement.

"We are experiencing a really busy start to 2023 also, and contrary to some commentary we believe we are seeing a perfect storm in terms of the level of deal activity across a large number of sectors."

The Group has continued to accelerate its ambitious growth strategy already in 2023, completing its first Irish acquisition, to become a multinational business. Update to follow.

More widely, the Experian Market IQ report noted the sustained activity in Wales within the manufacturing and construction sectors and a 24% increase in the volume of technology transactions.