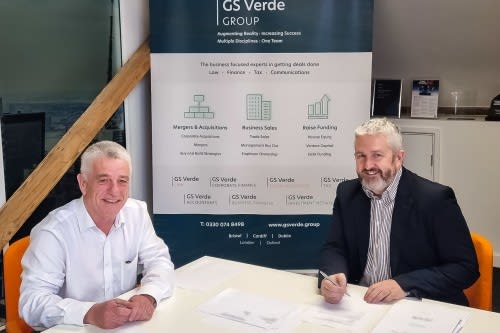 posted
21st
February
2023
Posted

7 months ago
By

GS Verde Group
GS Verde Group, the multidiscipline corporate advisory business, has acquired Integral Finance & Technology, to continue its ambitious, acquisitive growth strategy and broaden the business' footprint in Ireland and the EU.

Founded by John Slevin and Sinead Leech in 1997, Dublin-based IFT provides a full suite of finance and accounting solutions to its clients via its technology and software-enabled systems and platforms; supporting start-ups, international businesses and owner-managed growth companies with services including management reporting, financial controls, and project finance.

IFT will integrate with the GS Verde Group offering in Ireland, adding an additional 12 employees to the GS Verde Group Dublin office, with IFT retaining its premises in Dublin 4 amongst organisations such as Google and RTÉ.

Nigel Greenaway, GS Verde Group CEO, said of the acquisition: "The addition of the IFT team, and John and Sinead as founders of that team, to GS Verde is an exciting milestone for the Group.

"It marks our continued growth as key advisors on mergers and acquisitions, expands our reach and services within Ireland and the EU, and is also of significant benefit to our clients, providing access to buyers and markets within the UK, Ireland, and further afield."

John Slevin, IFT Director and co-founder, said: "We are delighted to be joining the GS Verde Group and start working closely with the multidiscipline dealmaking team. We look forward to the opportunities that this acquisition brings both for our clients and us as a business."

Adding IFT's services to the Group's offering is part of an ongoing strategy for the corporate finance advisory business, which has grown significantly over the last year. Across GS Verde's ever-expanding HQ in Cardiff, and offices in Bristol and Dublin, staff headcount has risen to over 80-strong, with continued growth planned throughout the UK and EU in 2023.

More widely, thanks to its multidiscipline approach to M&A, the GS Verde Group has been recognised as the most active advisor for mergers and acquisitions in its region for two years running by Experian MarketIQ, uniquely leading both the corporate law and finance rankings throughout the year, while CEO Nigel Greenaway was named 'Disruptor of the Year' at the prestigious Great British Entrepreneur of the Year Awards.

Combining legal, tax, finance, and communications, the GS Verde Group are the business-focused experts in getting deals done.