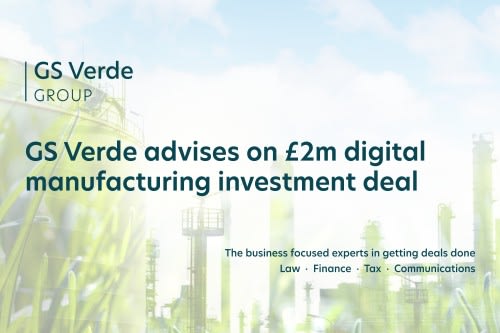 posted
17th
February
2023
Posted

10 months ago
By

GS Verde Group
A publicly announced £2m investment in Apex Additive Technologies is set to open up significant potential for creating a digital manufacturing centre of excellence in South East Wales, in a deal advised on by the GS Verde Group.

Apex is regarded as an exemplary company founded on green manufacturing processes that reduce waste and energy consumption, and help drive circular economies.

Based in Ebbw Valleys, an area that once dominated the world in steel production, Apex has the Industry 4.0 Digital Manufacturing expertise to make a disruptive impact across all sectors of Welsh manufacturing, empowering both local and global enterprises to adopt the most advanced metallic component manufacturing technology available and gain a competitive edge.

With a diverse customer base extending across dynamic sectors such as Life Sciences, Aerospace, Automotive, Oil & Gas and beyond, the versatility of Apex's offering creates an opportunity to form a rich ecosystem that enables regional businesses to break new barriers.

The investment, from Cardiff Capital Region, also supports a sustainable talent pipeline of highly skilled employees, delivering green, cost-effective and innovative manufacturing solutions to national and global markets.

GS Verde Group's multidiscipline dealmaking team advised on the transaction.

Read the full public announcement here.

Combining legal, tax, finance, and communications, the GS Verde Group are the business-focused experts in getting deals done.