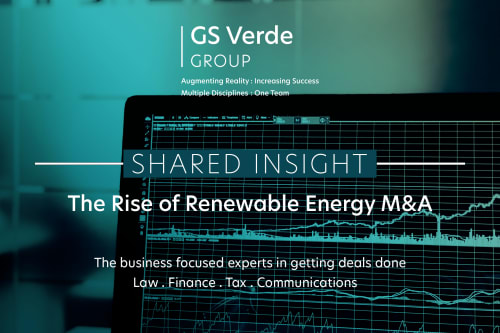 posted
29th
August
2023
Posted

1 month ago
By

GS Verde Group
Conversation around sustainability and the future of our planet continues to grow, and there is one sector that is catching the attention of investors: the renewable energy sector. The value of global mergers and acquisitions reached a record £118.7 billion in 2022.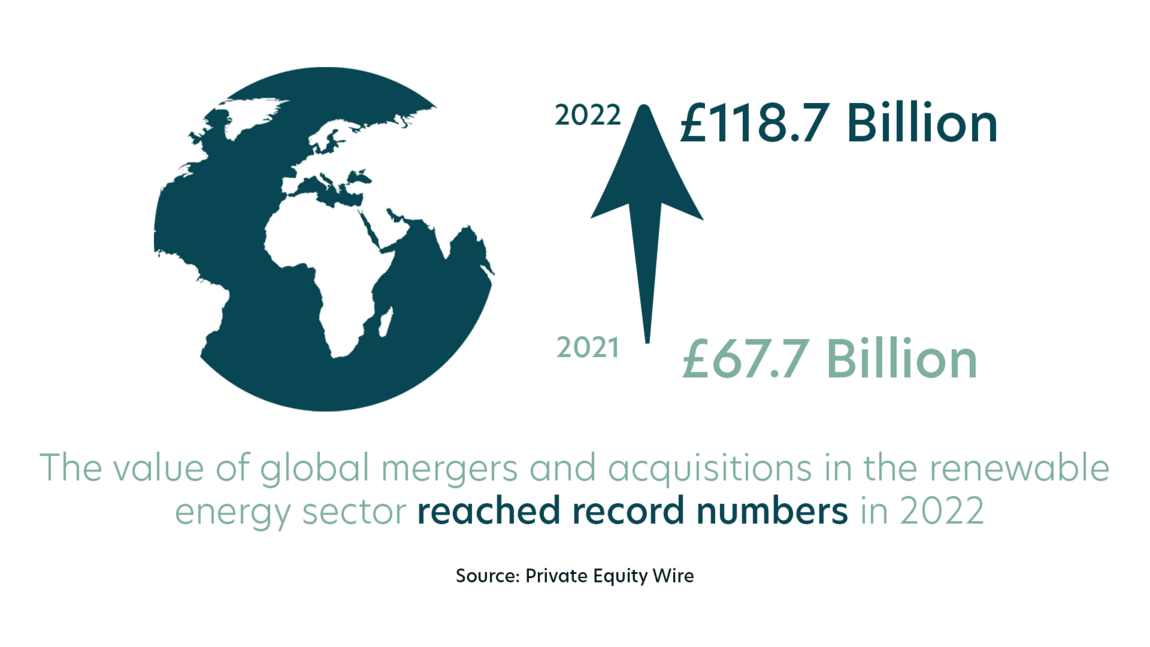 It's easy to see why. As well as the ongoing climate crisis shaping decisions around the world, the figures achieved by successful renewable energy companies look very promising to potential investors.

The revenue of renewable electricity generation in the UK has grown at a compound annual rate of 6.9% to £8.5 billion over the five years through 2018-2023.
Ongoing Energy Crisis in Europe
The war in Ukraine has meant that the supply of gas to Europe from Russia has fallen by 80% in 2022. This has led to higher demand for companies in the renewable energy sector, which has, in turn, increased interest among investors.
Government Targets of Achieving Net Zero
The UK is one of many countries that have pledged to reduce their greenhouse gas emissions to net zero. In the UK's case, the government wants to achieve net zero by 2050, and in fact, a new net zero strategy was released in March 2023.

Investors are also mindful of the government's net zero strategy and are showing increasing interest in investing in the renewable energy sector. In February, GS Verde successfully advised North Sea Systems - a leading provider of innovative survey solutions in the marine renewable energy and offshore construction industries - in a plan to raise investment.
Awareness of The Climate Crisis
Reported deal activity in the renewable energy sector has been at an all-time high in 2022, and the trend looks set to continue.

"In just the past four years, global deal activity (around 40% of which involved a Europe-based target) has increased substantially. Within these deals, renewable energy is factoring in more and more. In fact, there were $425 million dollars' worth of deals involving an acquisition of a renewables developer in the first half of 2022 alone."

While socioeconomic factors and government net-zero targets do play a part in increasing interest in the renewable energy sector, a lot of this demand can also be explained by the climate crisis being ever-present in everyone's minds.

Younger investors, who have come of age in an increasingly warmer world, are thinking to the future and prioritizing environmental, social and governance (ESG) opportunities.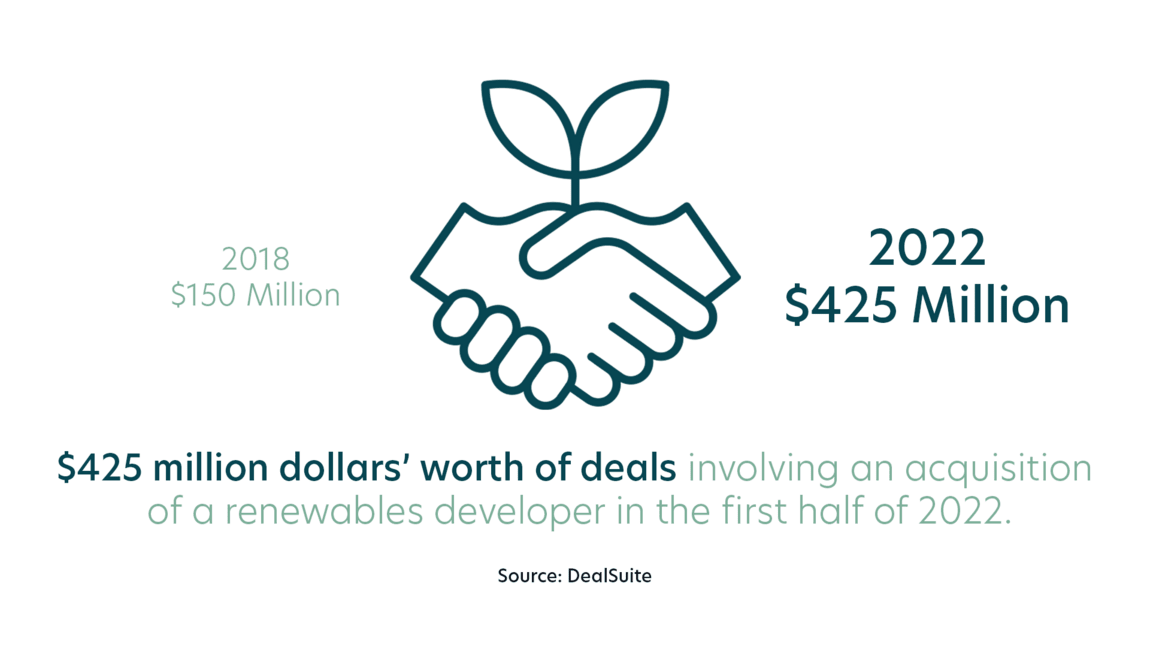 Renewable Energy Is Powering the Future
Fossil fuels are not going to last forever, and that fact coupled with the climate crisis has increased the demand for sustainable, renewable energy. Businesses as well as customers are eager to become less dependent on fossil fuels, especially when governments are offering incentives to reduce carbon emissions.

Indeed, there seems to be a decreasing appetite for investment in oil and gas M&A. It was found that oil and gas M&A makes up only 3% of the industry's market capitalisation - down from a peak of 10% in 2014.


Business is driven by innovation, and the renewable energy sector is innovative and exciting to its core, as it seeks to provide sustainable, cleaner solutions to outdated, dwindling fossil fuels. As GS Verde aims to innovate and lead within M&A, we're looking forward to seeing a greater influx of deals and investments in renewable energy companies in the future and facilitating further growth of the sector through our multidiscipline dealmaking.

To find out more about seeking investment for your renewable energy business, or how we can support you through an M&A transaction, contact one of our expert advisors.

The business focused experts in getting deals done
Law - Finance - Tax - Communications


Sources
Private Equity Wire, IBIS World, International Monetary Fund, BBC News, Deloitte, and DealSuite.